Indepth Arts News:

"Wolf Kahlen: Retrospectives 2000-2003, Part IV; Since Gutenberg: Books/Photos/Internet"
2001-06-03 until 2001-09-02
Ruine Der Kunste
Berlin, , DE Germany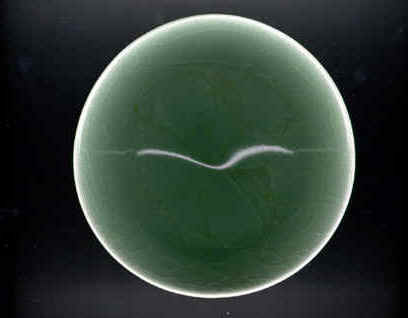 The consciouness mediating character of a potato is no different from that of the internet by a millimeter, gram or second, says the media sculptor Wolf Kahlen today, like a similar statement in a video he made in the 60s, when he was working on video pieces and did impressive media immanent pieces. The Ruine der Kunste recently showed his first 25 videotapes (1969-1975) in Part III of the tenfold retrospective.
More may be seen together with his video sculptures and installations in a later part, which all present phenomena or topic-oriented selected cornerstones out of his ouvre. In this fourth part they present other media pieces SINCE GUTENBERG: i.e. one of a kind BOOKS with unique PHOTOS as results from interfered photographic processes, and INTERNET pieces, net.art and what he coined net.sound.art.
In one of the leporello books for example: a paper photograph got wet, the photo of the wet photo was flooded by milk, the document of this event happened to stand in the rain.Only the outer parts of these Russian doll-like photos of photos of photos appear real, frame by frame inside the frame, becomes more and more abstract, woodcut-like, unbelieveable. Photos are unreliable.
Mine too, Wolf Kahlen said 1978 in his catalogue of the Freiburger Kunstverein show almost as a manifesto. Of course he did not only mean the lean argument of todays fakeability of any document.
The leporello books mirror a philosophy of the Loss of the One and the Return (rebirth) of the Other, an experience he encountered with his family, when they shipwrecked in the Archipelago of Galapagos Islands in the Pacific on July 19th, 1980.
Among the other book sculptures is: A Cubic Meter of Intelligence and Emotions. A mass of one cubic meter Russian books is stacked up as a cube and on top covered with dust he works with for more than thirty years as one of his ephemeral materials. Out of the dust drains the meditative sound of turning pages, as if one reads. The books were rescued from burning, when an East-Berlin public library wanted to get rid of all Russian influence in 1989.
Other books have become plaster emersed, impossible to use anymore.

Related Links: