NOGUCHI MUSEUM ISSUES PUBLICATION MARKING THIRD PHASE
OF ART- AND URBAN-PLANNING INITIATIVE
ORGANIZED BY MUSEUM AND SOCRATES SCUPTURE PARK

New volume expands conversation about urban growth begun with collaborative two-part exhibition
The Noguchi Museum and Socrates Sculpture Park announce the publication of a volume representing the third component of the three-part art- and urban-planning initiative, Civic Action: A Vision for Long Island City. For Civic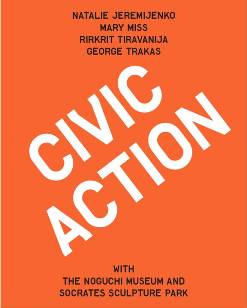 Action, the Museum and
Sculpture Park engaged four artists—Natalie Jeremijenko, Mary Miss, Rirkrit Tiravanija, and George Trakas—to lead teams to develop new approaches for growth in the Queens neighborhood in which the two institutions are located and which they helped to shape.

Civic Action began with an exhibition of models, installations, and drawings of the four artists' scenarios. This was on view at The Noguchi Museum from October 2 011 through April 2012, following which, during the summer of 2012, Socrates Sculpture Park presented related sculptures, installations, and social activities. Both were accompanied by a range of public programs, many of them organized in collaboration with other New York City organizations, bringing together a variety of communities to debate the issues.

The publication, also titled Civic Action, is intended to continue and expand the dialogue about the diverse neighborhood and ways in which it might at once develop and maintain its unique character. With more than 140 illustrations and eight essays, centered on rich photo-spreads featuring the work of each of the four artist-led teams, the volume has been edited by architectural historian and critic Julie Iovine, former executive editor of The Architect's Newspaper. It begins by describing the conceptual underpinnings and historic context for the project, provided through an introduction by Noguchi Museum Director Jenny Dixon and the transcript of a conversation between Alyson Baker, former executive director of Socrates Sculpture Park, and Claire Weisz, who served as the project's urban strategist.

The diverse essays that ensue include a "curator's statement" by exhibition curator Amy Smith-Stewart, who writes about contemporary artists whose work is created outside of the studio, and by Ms. Iovine, who places the overall Civic Action project in the context of the contemporary state of urbanism. Other contributors include Socrates Sculpture Park's Executive Director, John Hatfield, who examines the past and future relationship of artists to the changing urban landscape; Ms. Weisz, who contributed the essay "New Models for Planning"; and exhibition advisor Laurie Beckelman, an expert in cultural and architectural preservation policy, who wrote "Museum Activism."

One of the Civic Action related programs, a design charrette organized in June 2012 by The Architectural League of New York, is the subje ct of a chapter that describes the design challenges posed and solutions offered. The book concludes with an epilogue by the esteemed architect Hugh Hardy, who was a member of the exhibition advisory committee.

More than sixty richly illustrated pages at the center of the book are devoted to the four artists' projects, with abundant images and text for each.

Civic Action, a softcover book, is available for $20 at The Noguchi Museum's shop and on its website (www.noguchi.org), as well as on Socrates Sculpture Park's website ( www.socratessculpturepark.org).

Please see attached for additional information.
Media Contact: Jeanne Collins & Associates, LLC, New York City, +1 646.486.7050, or info@jcollinsassociates.com.


To from JCA e-mailings, reply with "" .