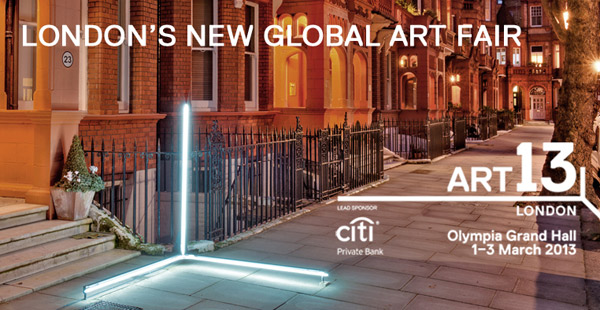 Art13 London
, sponsored by Citi Private Bank, which features 128 galleries from 30 countries, is pleased to announce the line-up of international artist projects to be presented at the Fair, which will take place from 1-3 March 2013 (VIP Preview: 28 February). Art13 London's commitment to showcase works by established and emerging international artists is complemented by the diverse line-up of the 20 projects that will feature throughout the Fair.
At the centre of Art13 London will be Pearl Lam Galleries', Chinese artist, Zhu Jinshi's remarkable new 12-metre-long installation Boat (2012). Composed of bamboo, cotton and 10,000 sheets of rice paper, the sheer size and visual impact of Boat sits in stark contrast with the delicate nature of the xuan (rice paper).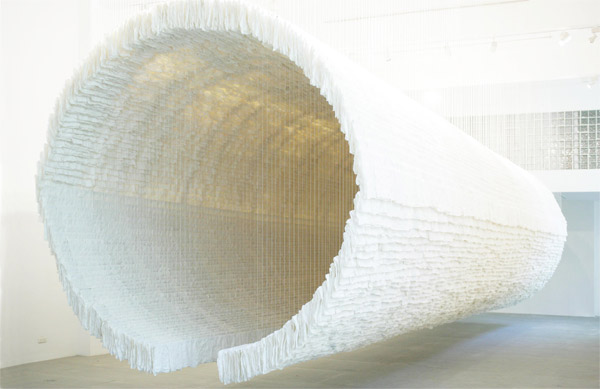 Zhu Jinshi, Boat (2012) | Pearl Lam Galleries
Projects are located throughout the fair - in aisles, booths and unexpected corners. These include Ghanaian artist El Anatsui's large-scale wall-sculpture In the World But Don't Know the World (2009) which is a 10-metre-long work that is comprised of tens of thousands of discarded metal bottle-tops – flattened, cut and 'sewn' together with copper wire.
El Anatsui, In the World But Don't Know the World (2009) | photo Jonathan Greet/ courtesy October Gallery
There will also be a strong Middle-Eastern presence throughout the Fair. Lebanese artist Zena El Khalil's interactive project, entitled A' Salaam Alaykum: Peace Be Upon You (2009) is a four-metre-tall mirrored sculpture of the Arabic script for 'Allah'. The work slowly rotates and is conceptualised by the artist as a symbol of peace, reflecting its surroundings in the way that is both inclusive and celebratory.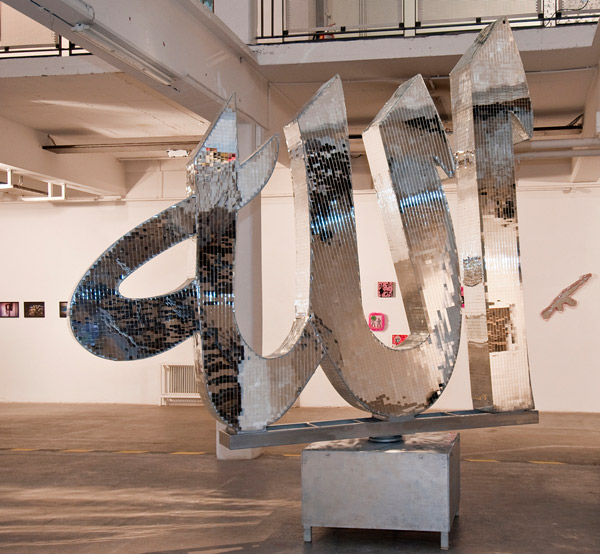 Zena El Khalil, A' Salaam Alaykum: Peace Be Upon You (2009) | Galerie Tanit
The 20 Projects located around the Fair are produced by artists from countries including Ghana, Morocco, Hungary, Lithuania, South Africa, Indonesia and China, as well as the UK, showcasing Art13 London's global nature. Click

here

for more information.
ART13 LONDON PARTNERS WITH FORTNUM & MASON AND LOUIS ROEDERER
| | |
| --- | --- |
| | Art13 London is delighted to partner with Fortnum & Mason to create an exclusive bar and restaurant at the Fair. Whether you would like a glass of Louis Roederer Champagne, Art13 London's Official Champagne Partner, lunch or their world famous afternoon tea, this really is the place to take some time out and relax on your visit to the Fair. |
ART13 LONDON ANNOUNCES SAATCHI GALLERY STORE AS OFFICIAL BOOKSHOP
Art13 London is delighted to partner with the Saatchi Gallery Store as the Fair's official Bookshop. The Saatchi Gallery Store will offer a wide range of books focusing on Contemporary art as well as limited edition prints by emerging and established artists including Boris Mikhailov, Marc Quinn and Yelena Popova.

For more information visit

www.saatchistore.com
Book tickets online at


www.artfairslondon.com


or call 0844 854 0503.

Quote 'PROJECTS' to receive
2 tickets for the price of 1*.

*Ticket offer based on an adult
on the door ticket price
i.e. 2 adult tickets for £16.
Please note that a £1.75 transaction
fee is applicable.
Offer valid until 27/02/2013. 


Click

here

for visitor information

Click

here

to read the full about Projects



For visitor enquiries please contact

info@artfairslondon.com



Visit the

website



Follow us on or like us on