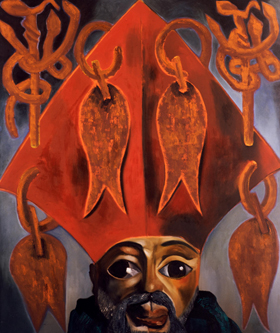 The Yale School of Art presents an exhibition of some thirty paintings made by the Italian artist Francesco Clemente (b. 1952) between 2006 and 2008, over the course of several extended trips to Brazil. These are drawn from a large body of work from this period—both oils on canvas and large-format watercolors—in which Clemente explored images and themes that had been central to his art for many years, as well as ideas and iconography indigenous to Brazil. The exhibition, titled Clemente > Brazil > Yale, is organized by Robert Storr, Dean of the Yale School of Art.

Although a group of watercolors was shown in New York, and several oils were exhibited in Berlin a few years ago, this is the first time that a substantial, integrated ensemble of these works has been seen in the United States, or, for that matter, in the Americas. The selection for this presentation includes twelve works on canvas and eighteen works on paper.

Please see attached fact sheet for more information, as well as an image sheet.

For additional press information, contact Tiffany Lee at Jeanne Collins & Associates, LLC:
646-486-7050 or info@jcollinsassociates.com.



Image
Father, 2006-2007. Oil on canvas, 84 x 71 inches. Collection of the artist. Photograph by Beth Phillips.


To from JCA e-mailings, please reply with "" .